A lot of people find it hard to stay next to snakes and other reptiles, but this doesn't apply to actress and movie producer, Rukky Sanda.
The fair-skinned beauty was in South Africa recently and she had an awesome time with some animals including lions and snakes. She posted the pictures of her encounter on Instagram and even uploaded a video of a snake slithering across her body while she caressed it in a loving manner. This left many of her fans wondering how she managed playing with the creatures.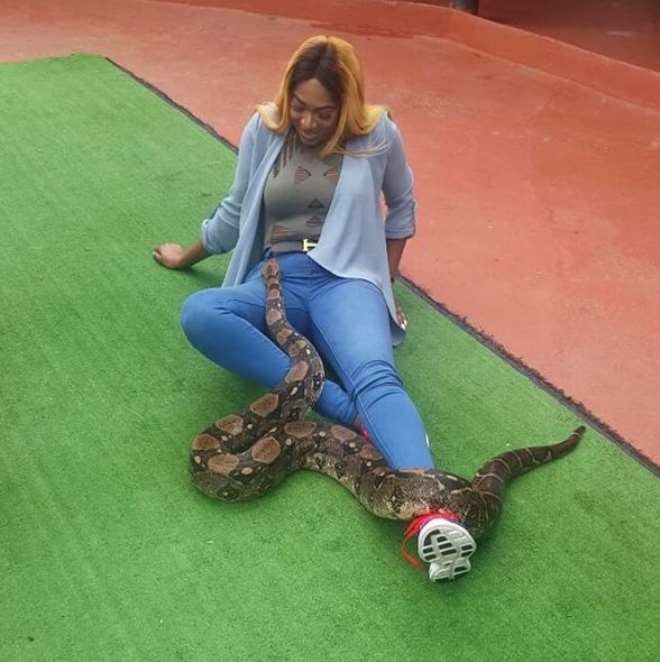 Speaking with Sunday Scoop, the actress confessed her love for animals. "Playing with a python or lion is not a big deal.  I have always loved animals and I like having them around me. I don't see anything unusual about that," she said.
On whether she entertained any fear of being bitten by the reptile, she said, "What many people don't know is that those animals were in a zoo and they have been tamed, so they didn't pose any danger to me. I wasn't the only one there as lots of other animal lovers were also present and they equally fooled around with the creatures."
Dismissing insinuations by some of her fans who interpreted her nearness to the snakes to mean that she's diabolical, she said, "Some people are boring and have a myopic attitude but I don't worry myself about them. Since when did playing with a snake make one a witch? As an actress, what if I am required to play a role with snakes, am I supposed to turn it down? I don't need to explain myself and my actions to anybody."
-Punch