Naomi Osaka won her first Grand Slam title Saturday, beating Serena Williams in a controversial US Open final that saw the American docked a game after calling the umpire a "thief."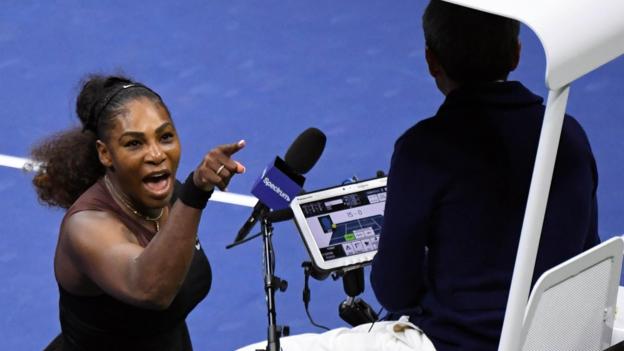 It was the latest in a string of events that could lead one to say this has been the most eventful Grand Slam ever, what with the heat, a new heat rule for the men, chair umpires intervening in play, one of the biggest upsets in tournament history and the mid-match retirement of Rafael Nadal.
Osaka prevailed against her idol 6-2, 6-4 in New York to deny Williams a record 24th major — and first as a mom — and become the first Japanese player to win a Grand Slam singles title.
The 20-year-old indeed made history for Japan but the final will be remembered as much — if not more — for Williams clashing with chair umpire Carlos Ramos in Arthur Ashe Stadium.
Ramos first gave Williams, 36, a code violation warning for coaching in the second game of the second set — he ruled that her French coach, Patrick Mouratoglou, gave her hand signals from the stands. Mouratoglou admitted in a TV interview he was coaching, though that didn't mean his charge saw him.
And he said his counterpart, Sascha Bajin, formerly Williams' hitting partner, was doing the same thing.
Williams approached the net and told Ramos: "I don't cheat. I'd rather lose. Every time I play here I have problems."
Williams also pleaded her case to tournament referee Brian Earley and supervisor Donna Kelso, having demanded the presence of the officials on court.
"There are men out here that do a lot worse, but because I'm a woman, you're going to take this away from me?" Williams said. "That is not right."
"I've seen other men call other umpires several things," she added later in her mandatory news conference. "I'm here fighting for women's rights and for women's equality and for all kinds of stuff. For me to say 'thief' and for him to take a game, it made me feel like it was a sexist remark.
"He's never taken a game from a man because they said 'thief.'
"For me it blows my mind. But I'm going to continue to fight for women," said Williams, before voicing her displeasure about French player Alize Cornet being told off by a male chair umpire last week for taking off her top when it was on the wrong way. Cornet had a sports bra on underneath.
– CNN