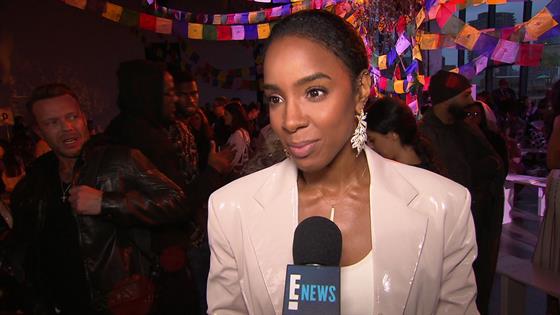 Stars are speaking out after Cardi B and Nicki Minaj's shocking fight at the Harper's BazaarICONS event.
Days after the A-list party, celebrities like Kelly Rowland and 50 Cent are showing where their loyalties lie in the dramatic feud.
For the most part, celebs are trying to stay neutral. Rowland, who was at the event when the fight occurred, told E! News, "I think in a time where Serena Williams is fighting for equality—I love both Nicki Minaj and Cardi B and I think that they are extremely talented—and in a time when she is fighting for women's equality, we just can't be fighting."
"There's no time for us as women to fight and they are just so talented and I just genuinely love them both so much, but it's just not the time. We have way bigger issues as women, you know what I mean? So I don't know. I'm Switzerland, I don't f–cking know," she said exasperatedly.
While some are being "Switzerland" in the dispute, other are voicing their support on social media in subtle ways. Hailey Baldwin, Karamo Brown, Jonathan Van Ness and Snooki are among the stars who liked Cardi's statement on Instagram, while Adriana Lima said in a since-deleted comment, "@iamcardib you got my support in this one."
On the other side of the spectrum are the Nicki Minaj supporters, like Winnie Harlow, Vanessa Hudgens and Lisa Rinna, who all praised the "Queen" in the comments section of Nicki's Insta the night of the altercation.
Azealia Banks, who is an outspoken critic of Cardi B, also got in on the drama when she went on her Instagram Live to discuss the spat. "She doesn't understand the rules of black female etiquette… She doesn't understand that black women in 2018, we fight with our words and not with our hands," the singer claimed.