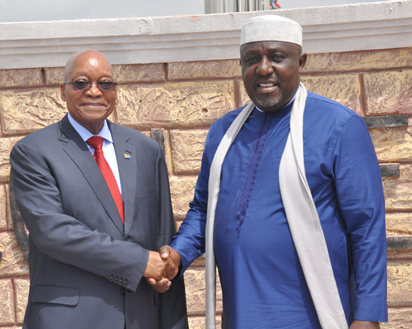 The President of South Africa, Jacob Zuma, Sunday, warned that no Nigerian citizen should be killed in any parts of South Africa.
Zuma was quoted to have made the statement, through a release issued to newsmen in Owerri, by the Chief Press Secretary, to Governor Okorocha, Mr. Sam Onwuemeodo, after receiving the Imo merit award and signing of Memoranda of understanding between Zuma foundation and Rochas foundation of Africa.
Also in the release, Zuma said that no South Africa citizen should be killed. Just as the president, called for stronger partnership between Nigeria and South.
According to the release, "President of South Africa, Mr. Jacob Zuma has said that a South African must not kill a Nigerian and a Nigerian must not kill a South African, adding that the relationship between Nigeria and South Africa should be stronger than any other part, for the sake of the Continent of Africa. "Africans must come together to address African problems. We are the same people. We cannot succeed if we handle problems as individuals. We need to recognize that we are one."
– Vanguard